Target group
We give advice to adults affected by domestic violence / stalking.
Domestic violence / stalking can happen to anyone at any time. People of all ages, professions, religions and nationalities can be affected by this.

Violent actions in partnerships and families are usually not a single occurrence. Perpetrators often trivialize and use excuses such as stress, too much alcohol or alleged provocation. After the deed they might show remorse and promise that it won't happen again. This is soon followed by threats and actions, which often are increased more and more.

In the hope that things will improve - perhaps because of their feelings of fear, shame, guilt and failure maybe for the children or other dependencies - victims stay in these relationships over a long period of time. They feel helpless and the feeling of being at the mercy of the other person makes them ill.
Making Contact
We consider ourselves to be an advice centre for victims of domestic violence, which has a pro-active approach: With the victims' permission, we receive a report from the police on the act of domestic violence and any action taken by them. We then make contact with the victim and offer our advice, help and support. Likewise, we are notified by the police of any victims of stalking who are looking for help. These victims are also presented with our offer of advice, help and support.

Our offer can of course be sought after or made use of directly by the victims themselves, without a mediator.
Intervention and Co-ordination Centre against Domestic Violence / Violence in a Close Social Environment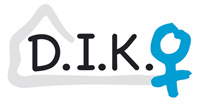 D.I.K.
Laurinstrasse 6
01067 Dresden
Consultation Course and - offers for victims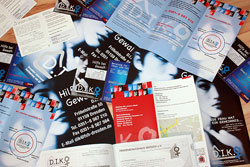 The Dresden Intervention- and Co-ordination Centre against Domestic Violence / Violence in a Close Social Environment offers:
Information in all cases of Domestic Violence and in cases of Stalking
Advice, guidance and support
Mediation to other institutions and advice centres
General Information on:
Possible civil rights according to the "The protection against violence" act
Stalking
Divorce / separation, contact- and custody regulations
Possible police protection
Possible criminal action
Possible personal security precautions
Further advice- and offers of support
Legal advice cannot be given. Where there is a language problem, the services of an interpreter are available.

We would be pleased to give you advise over the phone, in our consultation rooms (where children are always welcome) and if necessary in your home. The consultation can be for one time only, or for several times. (The consultations are confidential and if wished can remain anonymous).


The Police and the District Court have the following possibilities:
In a case of Domestic Violence the police can order the abuser to leave the premises (Reprimand)), take his/her key away and forbid entry to the home for 7 days. The police can also take the abuser into custody, if there is an acute danger that cannot be resolved in any other way.

"Who hits out, must go" is a principle that has been brought into the Civil Rights Protection Act against Violence and Stalking.
According to paragraph 1 the so called "Order for Protection" can be requested from the court, forbidding for example: threats, maltreatment, contact and harassment. It is a criminal offence to disobey this court order.
According to paragraph 2 allocation of the common home can be requested from the court and an order to forbid entry can be defined.
The abuser can be forbidden both, to give in notice of the home and to make the use of the home more difficult.

Besides the personal advice that we give victims, regional networking, co-operation and co-ordination in connection with domestic violence and stalking is also central to our work.
Our offer to Projects, Institutions and Organisations:
We offer:

Further training and expert advice for helpers and professionals. You can choose between, informative discussions, further education, training or awareness seminars on the subject of domestic violence and stalking.