Who can come to the Women's Refuge?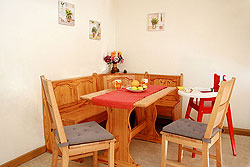 Women who are threatened or affected by violence will be admitted to the Women's Refuge with their children. Boys from the age of 16 years are not usually admitted to the house.

A woman who is affected must express the wish to come into the Women's Refuge herself and cannot be admitted into the house by any official authority. Women must be able to take care of themselves and their children in the Women's Refuge.

Pets are not allowed in the Women's Refuge.
How does a woman come to the Refuge?
Contact and reception

The Women's Refuge is an anonymous institution.
The first contact is always made via the emergency number 0351 / 281 77 88. On the telephone we discuss whether a reception at the Women's Refuge would be helpful for the woman or whether she would like to find another way out of her critical situation.
If she decides to come to the Refuge a place is arranged where she will be picked up by a co-worker.
Life in the house
The Women's Refuge Dresden has room for 32 women with children. The house has three floors with 14 rooms altogether. Every woman gets one room for herself and her children.

On every floor there is a kitchen, a bathroom and toilets. These rooms are used by all inhabitants. The kitchens are quite big and divided into a cooking area and a cosy furnished dining area. They are also used as a common room by the women and children.

In the house there is an office for all co-workers and also a small consultation room. On the ground floor there are play-, handicraft- and homework rooms for the children. The television room is sometimes used as a room for group discussions, a small library is also situated here.

In the cellar there are the following functional rooms: heating room, workshop for children, stock room for detergents, washing machine room, smoker's room and a small sports room for women and children. The attic is used to dry washing when it rains or in the winter. The laundry room is on the second floor.

Outside the house there's a small child friendly garden with a sandpit, slide and a table tennis table. There is garden furniture, if the women choose to sit outside and have a chat.

The house is quite conveniently located. Schools and kinder gardens as well as shopping facilities are nearby.

Living together is governed by the house rules.

To make sure that all the inhabitants of the house are protected it is not allowed to hand out the address of the Refuge. Meeting up with other people in direct proximity of the house is prohibited. Unfortunately women are not allowed to receive visitors.

Every woman is responsible for herself and her children.